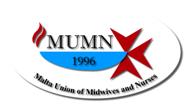 Extraordinary General Conference Hotel Phoenicia Floriana -Tuesday 18 April 2023 at 7.30pm
We would like to clarify the purpose of next Tuesday's meeting as many of you have requested more details.
As you are aware, the Government is stating "that the financial package presented is the best one ever presented to Nurses & Midwives". But is it enough for today's realities? This concept needs to be decided next Tuesday. MUMN Council will be giving you the actual handout of Government's latest package and all the details from MUMN's package. 
You will then need to decide whether MUMN accepts the Government's package and sign the agreement which has a 5-year duration or else request the Government to present a better package to be negotiated since that the current package is not acceptable.
As you may appreciate, this is a very important meeting as it determines your future in relation to your career, working conditions, salary etc. We are truly sorry for those Nurses & Midwives who happen to be duty during the time of this conference but we cannot do otherwise due to the regulations attached to meetings of these type.
MUMN Council urge you to do all the necessary arrangements to attend.