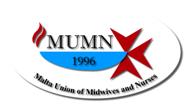 Important developments in the New sectoral agreement
At this late hour, MUMN council would like to inform you that we have been approached by the Government informing us in writing that a new set of counter proposals have been conveyed to us and will be discussed in an early morning meeting tomorrow 9/3/2023.
Due to these developments, MUMN is cancelling the tomorrow press conference and we will keep you informed on the outcome of the meeting.
We would like to take this opportunity to thank you for your continuous support.
MUMN Council