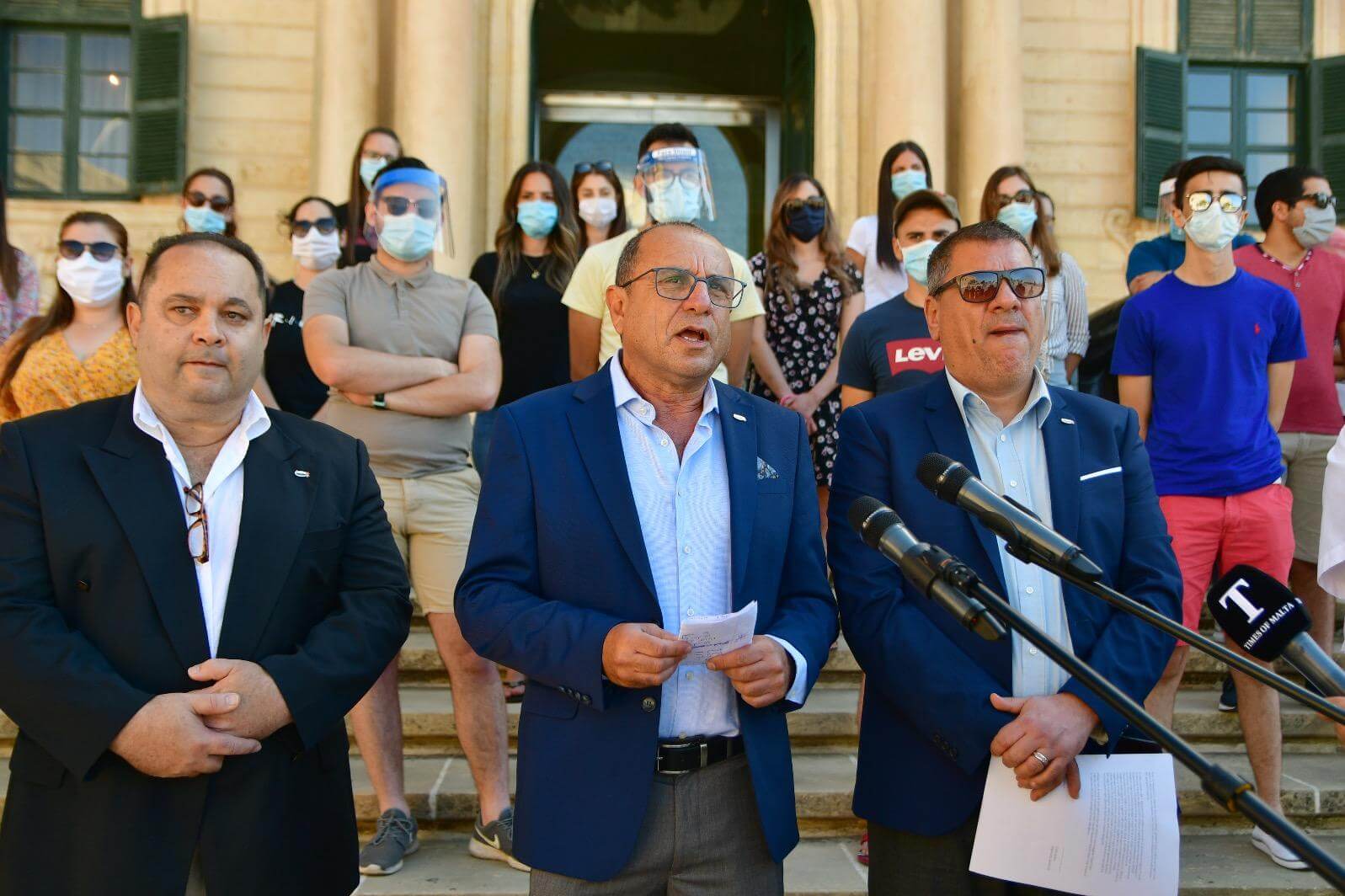 MUMN - Gozitan nurses protest foreign recruitment in Gozo hospital
Source: Newsbook, 17th June 2020, John Paul Cordina
The Malta Union of Midwives and Nurses led a group of Gozitan nurses in a short protest outside the Auberge de Castille on Wednesday morning, in which they appealed to the Prime Minister to stop Steward Healthcare from recruiting foreign nurses in the Gozo General Hospital.
Wearing facemasks, the Gozitan nurses – a sizeable proportion of the 160 who work in Maltese state hospitals – occupied the steps of the auberge as the MUMN council addressed the press.
Union president Paul Pace repeatedly emphasised that the MUMN was not opposed to foreign nurses working in Malta, but insisted that vacancies at the Gozo General Hospital should be filled by Gozitan nurses who have long been awaiting such a transfer. The union would even have objected if the nurses recruited by Steward were Maltese, he said.
Pace argued that Steward could easily have chosen to employ the foreign nurses in Karin Grech Hospital, where 50 nursing posts need to be filled, but the company refused to follow through.
Breaching a 'sacrosanct' practice
Pace noted that different governments have long followed the practice of a transfer list, in which Gozitan public sector employees working in Malta are ranked by seniority and prioritised for any possible transfers to Gozo. He described the practice as 'sacrosanct,' and emphasised that it was a fully transparent process, with every Gozitan knowing when their turn would be.
According to the MUMN, 160 Gozitan nurses work in Maltese state hospital, of which around 100 wished to be transferred to the Gozo General Hospital.
But Steward, Pace lamented, was allowed to ignore this practice. In a letter to Prime Minister Robert Abela, the MUMN argued that this breached the terms of an agreement between government and the MUMN, and also went against an electoral pledge to ensure that no opportunity would be lost to provide Gozitans with job opportunities in Gozo.
Steward abusing union concession during pandemic
Pace also explained that when the Covid-19 pandemic reached Malta, nurses could not be moved from one hospital to another as a precaution. As a result, should Gozo have experienced a strong outbreak, its only hospital could have been overwhelmed.
As a result, he said, the union agreed that during the pandemic, Steward could employ a small number of foreign nurses in Gozo should they be required, providing that they would be moved once the pandemic ends.
However, Pace added, Steward only brought the first foreign nurses to Gozo – a group of 10 hailing from India and Pakistan – last Saturday, with the pandemic under control and nurses once again free to transfer from one hospital to another.
Steward accused of disrespecting minister
Asked whether the government had approached the union since it raised its objection to Steward's foreign recruitment in Gozo, Pace said that Health Minister Chris Fearne acted proactively, immediately scheduling a meeting involving union and Steward officials for last Monday.
However, this meeting did not take place since on Sunday, Steward filed an urgent request for a warrant of prohibitory injunction to block the MUMN's planned directives which has been provisionally upheld. This, Pace pointed out, left the union with no option but to fight Steward in Court.
Steward "went behind the minister's back as well as ours; did not even show respect to the Health Ministry," Pace maintained.
PN expresses its solidarity with Gozitan nurses working in Malta
Partit Nazzjonalista has endorsed the call made by Gozitan nurses working in Malta and the MUMN representing the nurses, for Gozitans to be recruited at the Gozo General Hospital.
To date, whenever a vacancy arises, Gozitan employees working in Malta are sent to Gozo to fill in the post.
The Opposition called on the Government to intervene and ensure that Gozitan nurses are employed at the Gozo General Hospital and that other nurses are recruited in Malta. The Opposition once again reiterated its call for the privatization deal to be scrapped.
The statement was signed by Opposition spokesperson for Gozo Chris Said.
Click here to see full interview