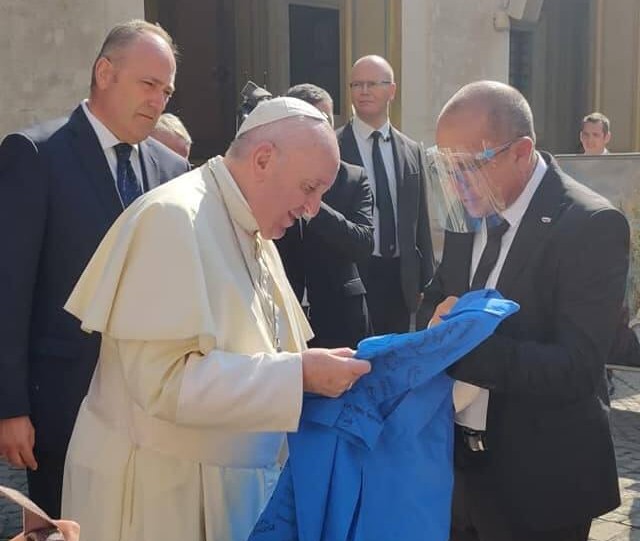 Pope presented with Tunic worn by Nurses and Midwives in Malta
POPE PRESENTED WITH TUNIC WORN BY NURSES AND MIDWIVES IN MALTESE HOSPITALS
Source: Easy Branches - Posted On September 16, 2020 
To celebrate the 25th anniversary of the setting up of the MUMN, the executive committee and a number of members this morning visited the Vatican City State.
The delegation, led by its President Paul Pace, this morning participated in the general audience by His Holiness Pope Francis at the Vatican's Piazza San Damaso.
At the end of the audience, Mr Pace met with the Pope and took the opportunity to present a tunic worn by nurses and midwives in Maltese hospitals. The Pope also exchanged his skull cap with one offered by Mr Pace.
The same delegation later visited the Vicariate of the Rome Diocese and met with Monsignor Slowomir Oder, who in the recent past had been responsible for the beatification and canonisation cause of St John Paul II. Monsignor Oder presented Mr Pace with a certified relic of St John Paul II.
Both the Pope's skull cap and the saint's relic will be exposed for veneration in the hospital's chapels.
Malta's Ambassador to the Holy See, Mr Frank Zammit, accompanied the delegation during their visit to the Vatican City.
Watch: Pope Francis exchanges gifts with MUMN members
Source: Newsbook, September 20th 2020